Strand is excited to be an exhibitor at the 64th Annual Meeting of the American Society of Human Genetics, San Diego from 18 – 22 October 2014, one of the world's largest human genetics meetings. At ASHG, Strand will demonstrate the latest version of its state-of-the-art NGS data analysis tool 'Strand NGS' and interpretation and reporting platform 'StrandOmics'.
At ASHG 2013, Strand had demoed Avadis NGSv1.5 and presented posters on 'Aneuploidy and Normal Cell Contamination Aware Approach to Detect Copy Number Variations in Cancer Using Next Generation Sequencing Data' and 'Shortening the Diagnostic Odyssey: Integrating Genomic, Structural, and Phenotypic Information to Reduce Time of Rare Disease Diagnosis'. This year we are thrilled to present Avadis NGS with its new brand name 'Strand NGS' and  'StrandOmics' tool for the first time at ASHG. Loads of new features and utilities with respect to visualizations and interpretations will be highlighted by our representatives at the booth # 338 at ASHG 2014.
This year, we are also presenting four new posters in the sessions on 'Bioinformatics and Genomic Technology' and 'Clinical Genetic Testing'. The posters highlight benchmarking studies we conducted to compare our variant calling and alignment algorithms with some of the other options available to scientists, present case studies from our clinical genetic testing practice in India, and illustrate our variant interpretation and reporting platform, StrandOmics. Detailed information about each of these scientific posters and agenda is mentioned below. For more information visit our ASHG webpage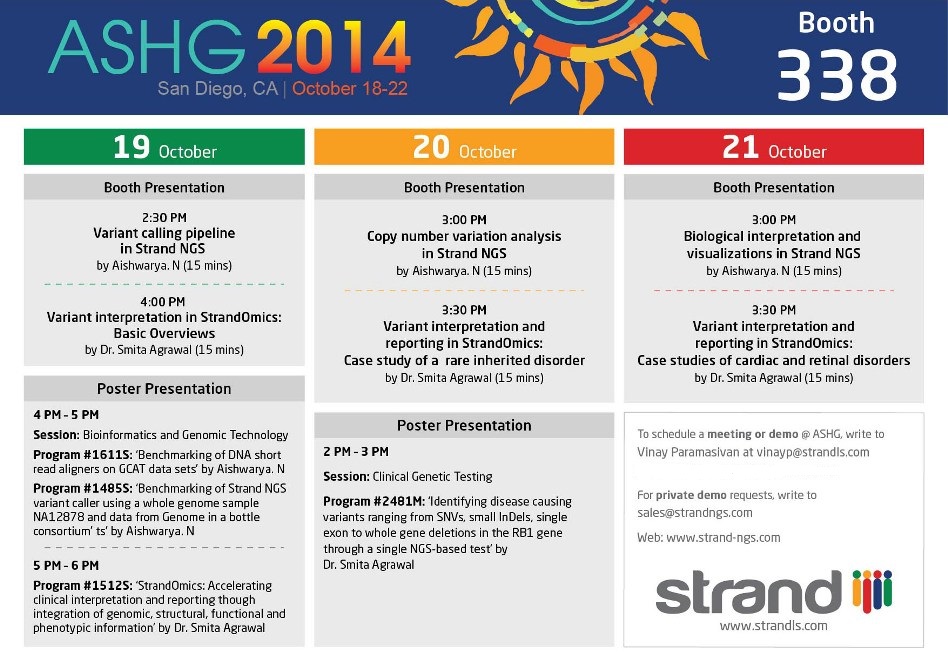 Come and meet our experts at ASHG 2014, booth #338, to learn more about Strand's solutions.
To schedule a meeting or demo request of Strand NGS, please write to:
Vinay Paramasivan at vinayp@strandls.com
To schedule a meeting or demo request of StrandOmics, please write to:
Adrienne Craig-Kennard at adrienne@strandls.com
Dr. Smita Agrawal at smita@strandls.com
About Strand NGS
Strand NGS, an integrated desktop software that enables biomedical researchers to manage, analyze, and visualize data from next-generation sequencing (NGS) experiments. The software is designed to enable biologists to make sense of NGS data by providing a rich, visual environment for QC, analysis, and interpretation of ChIP-Seq, RNA-Seq, small-RNA-Seq, DNA-Seq and Methyl-Seq data. The enterprise version of Strand NGS (server edition) supports multi-member teams to collaborate, share data, and speed up analysis, while the easy backup-restore option allows safe and secure data transfer. For more information visit http://strand-ngs.com/ 
About StrandOmics:
StrandOmics, is a variant calling and interpretation tool designed to support sequencing lab workflows. The tool reduces variant interpretation and reporting time from days to a few hours. StrandOmics, is based on first-hand experience interpreting variants from hundreds of genomes. To know more visit http://strandomics.com/